Campaigns
Smart, Data-Driven, Customer Engagement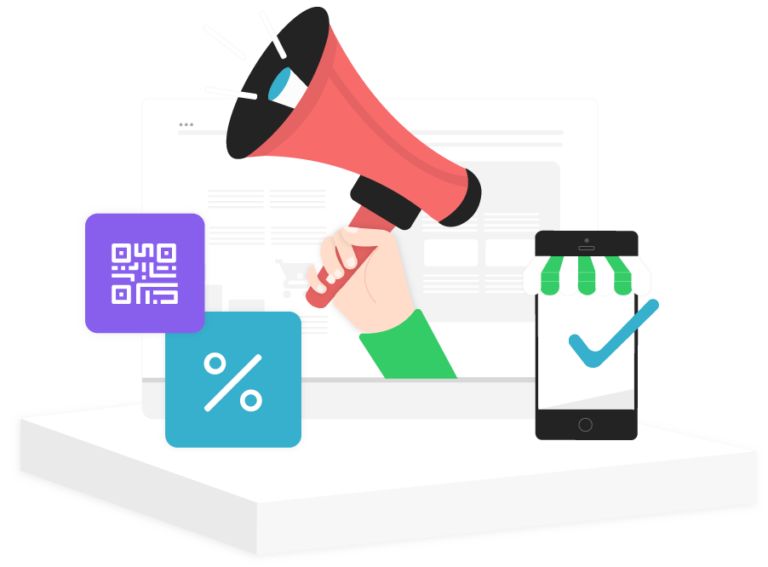 Targeted Marketing to keep your customers coming back
Harness the power of LoyLap to deliver your message to the right customers, in the right place, at the right time.
Achieve maximum effectiveness towards your marketing goals with smart, automated, customer segmentation; ensuring that any offer a customer might receive is the right fit for them.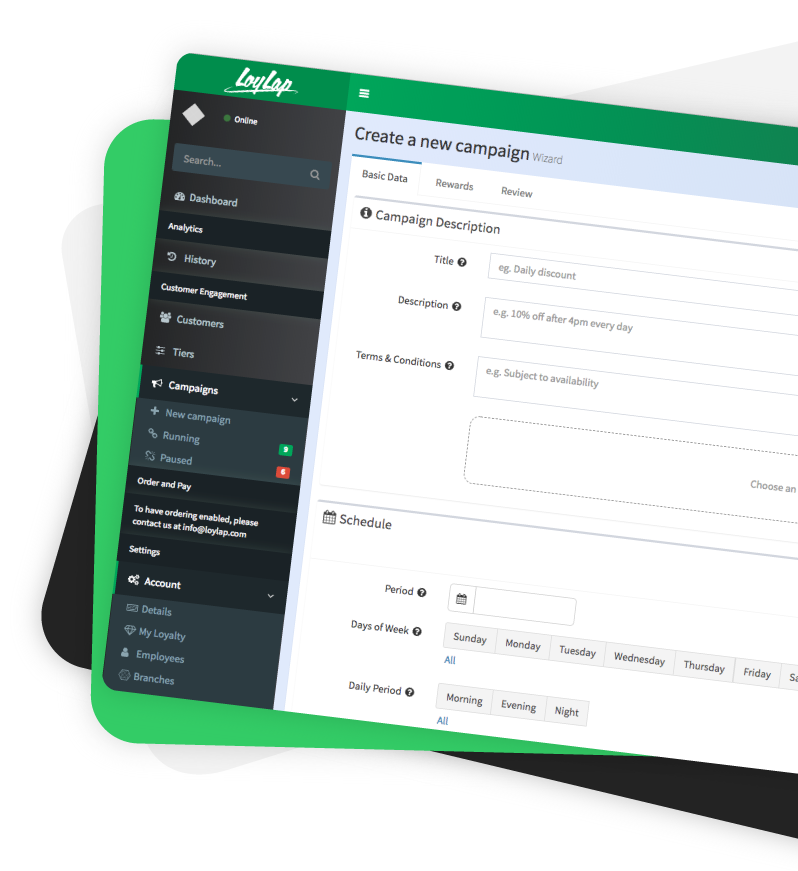 Pinpoint Targeted Promotions
Stop guessing and start utilizing actual transactional data to send personalized offers based on
Smart and efficient Promotion Delivery
With LoyLap campaigns you can send offers directly to customers;
In-app
Send offers directly to your customers' smartphones; either directly in the LoyLap app, or through your own branded app
Online
Add a few lines of LoyLap code to your website to enable your customers to log in and see all available offers
QR Code
Turn your offers to QR codes and print them onto cards or send them digitally to your customers
Seamless Redemptions
LoyLap's deep POS integrations mean that the second your Campaign goes live, your POS is automatically ready to receive and understand the Campaign promotion, and action the transaction as appropriate.
No mass company wide communication nor staff training required; just seamless transactions for effortless marketing.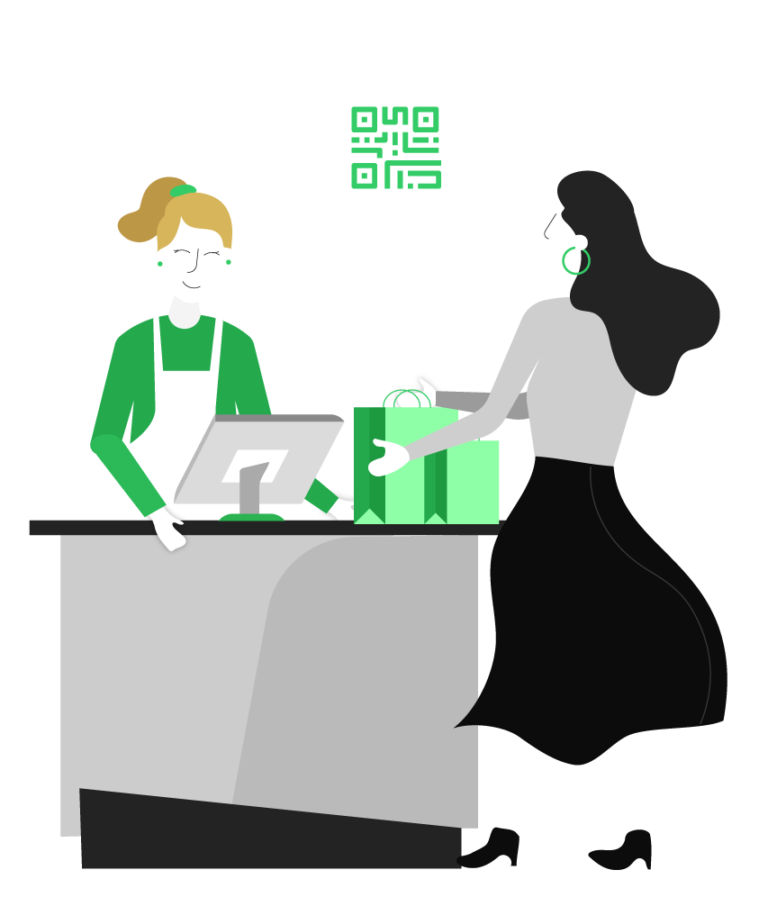 Track your Success
With LoyLap Campaigns we provide you with all the data you need to make the right decisions for your business.
With live data during campaigns and post campaigns results, you will be able to see exactly what works for your business, and use that information to improve future promotional campaigns
Pay only for positive results
Create unlimited campaigns and coupons
Create unlimited campaigns and coupons to drive your business growth. You only pay when a campaign is successfully redeemed and has driven value for your business. 
Your winning solution
You are in charge of your campaign budget. Create limits based on your Marketing budget and objectives. Start low by testing the waters, invest more when you are absolutely comfortable using LoyLap Campaigns and if it is driving discernible value for your business.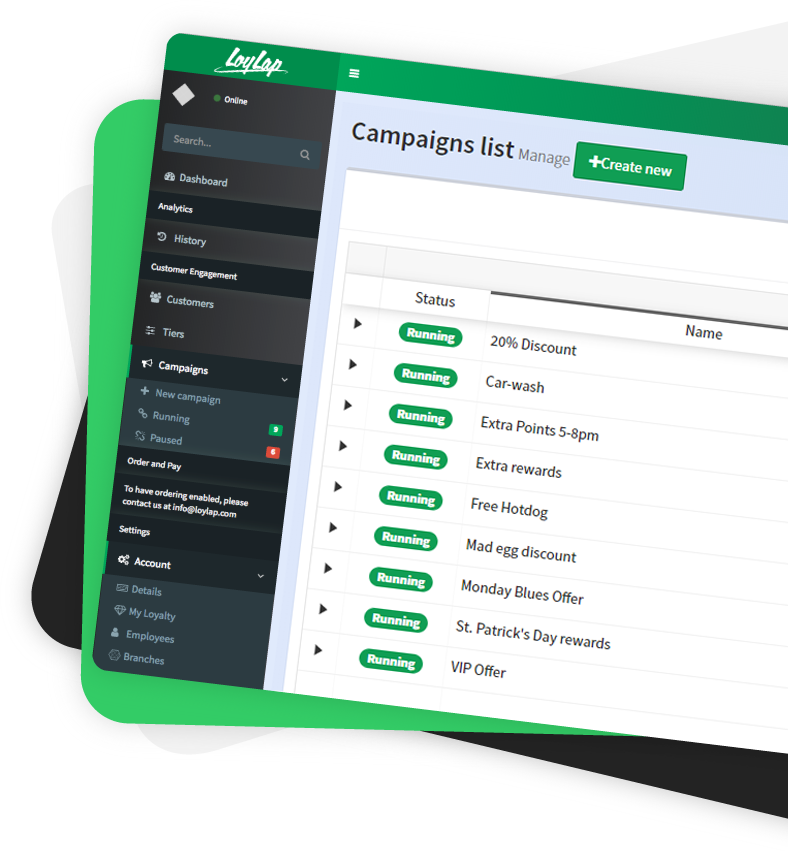 Get Started with LoyLap Campaigns
Get in touch with us now.
We will help you with your LoyLap account and our Customer Success team will help you get your Campaign off to the best possible start. You will be able to create your first campaign in no time!
Happy to Help.
Our Customer Success team will work with you when you sign up for LoyLap Campaigns. You will be assigned a Campaign Specialist who will work with you to ensure your LoyLap account is set up, and your first campaign is built as per your objectives. We provide this service to all our Campaigns customers at no extra cost.
Please note that the first 30 days are crucial to understand how Campaigns works and what factors contribute to your success. Your Campaign Specialist will guide you every step of the way.
You can directly call us at these numbers to know more.
US: 800-975-0122     UK: 02082 438531     Ireland: 01 437 0604
* Mon-Fri, 9am-6pm.