Peer-to-peer engagement resonates with millennials more than any other form of advertising. By rewarding customers for their social activity, you can turn your loyal patrons into strong brand advocates, while simultaneously increasing your social media presence.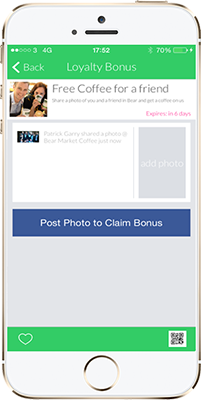 We've teamed up with Popdeem to bring you the best in loyalty social campaigns.
LoyLap and Popdeem let you try out new and creative marketing strategies.
LoyLap is fully integrated and compatible with Irish social rewards company, Popdeem, enabling you to launch social media campaigns linked directly to your LoyLap business app.
Tell your customers know which social actions they can get rewards for directly in their app, such as:
Check in at your location

Share a photo at your location
Your staff can then redeem social rewards easily at the point of sale.